Austin Tree Removal Services
We own a very specialized one of a kind custom built crane which we use for tree removal. We have 25 years of experience using our custom crane, and other cranes in dynamic tree work. Dynamic crane work is routinely (10% of their work or more) done by less than 2% of crane operators in the world. I do over 95% of my crane work dynamically!!!
We also use one of the best wood chippers in the industry. The Bandit Intimidator™ 18XP is a highly productive 18″ capacity drum-style chipper. Its powerful dual feed wheel system driven via (2) 32.3 CID hydraulic motors provides around 4,480 pounds of pulling power and the standard hydraulic lift cylinder enhances performance by providing additional down pressure reducing chainsaw work.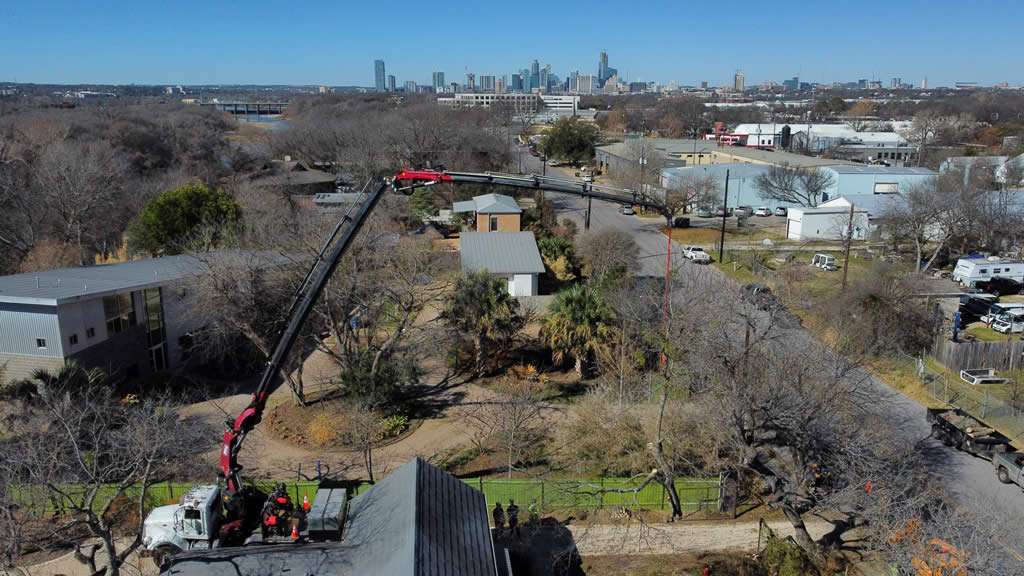 Fallen Tree Removal
If a tree falls down in your backyard and nobody is home, does it make a sound? Yes, of course it does…and it also make a mess that can be difficult to take care of for most people. Many trees in Austin have a 30 years or less lifespan, so a fallen tree in your yard is a good chance. We have the equipment and man power needed to take care of any fallen tree in your yard, even if it's leaning up against your house.
High Risk Tree Removals & Emergencies
Apart from routine emergencies, we are uniquely qualified to do your tree removal. We own a spiderlift that is insulated electrically and can do a lot more than just get to those hard to reach places. We are also trained and experienced in removals near electrical or cable wires. These kinds of removals can be especially dangerous so it's extremely important to have an experienced and insured professional doing the job.
Deadwood Tree Removal
Class I deadwood tree removal: Class I deadwood removal consists of removing dead, dying, or broken limbs and branches that are approximately one inch in diameter and larger. This is detailed and time consuming work, and is not recommended for most homeowners.
Class II deadwood tree removal: Class II deadwood removal consists of removing dead, dying, or broken limbs and branches that are approximately two inches in diameter and larger. This improves the health and aesthetic qualities of the tree while reducing the potential hazards presented by falling or fallen limbs.
Class III deadwood tree removal: Class III deadwood removal consists of removing only those dead, dying, or broken limbs that are over approximately three inches in diameter. We sometimes refer to this as "fast deadwood removal".
Oak Wilt Tree Removal
We inspect trees to determine whether or not they have Oak Wilt or different problem, and if any of the tree is salvageable. As a certified Oak Wilt Specialist, we can diagnose the infection, and offer solutions which can prolong the trees life, or removal solutions if needed. Read More about Oak Wilt
Tree Stump & Root Removal
After a tree dies or is cut down one of the most difficult procedures can be removal of the tree stump and root. We have years of experience doing exactly that, and we use a specialized piece of equipment called a stump grinder to begin our tree stump & root removal process. Beyond grinding down the stump, the roots often require manual labor with shovels and chainsaws in order to fully extract them. If you are planning on landscaping or planting another tree in the same area, the stump and roots of the old tree almost always have to be removed in order to make space in the soil.